If you're looking to update your recruitment tech stack for 2022, you've come to the right place.
To help you figure out which tools are ideal for you, we've included a total of 64 online recruitment tools along with their top features and pricing. You'll find both free and paid tools on this list to help you with things like attracting and finding candidates, evaluating, and eventually onboarding them.
The recruitment tools on the list are relatively easy to use and have unique features that differentiate them from similar tools. Many of them have integrations with popular ATS and HR solutions.
Before we get started, it's important to remember that there is no magic bullet in recruitment, as Mike Cohen points out. No tool is going to solve all your problems and some tools are a better fit for your organization than others. So, before you start looking for the best recruitment tools on the market, it might help to define what your most pressing issues are.
We'll cover the following categories of the recruitment process (you can jump straight to each category):
PLATFORMS THAT CONNECT RECRUITERS AND COMPANIES

In the first category, we'll cover tools where recruiters and companies can connect and collaborate. Whether you're a company looking for recruiters or a recruiter looking for clients, this is the first step. And it's an important one, since finding people you'd like to work and collaborate with isn't always easy.
1. Upwork
Upwork might be the most popular work marketplace out there. It connects businesses with a large pool of freelancers and agencies of all sets of skills, including recruitment and HR services. When a clients searches for freelancers, the platform shows you the ones who are the best choice for your needs based on an algorithmic match.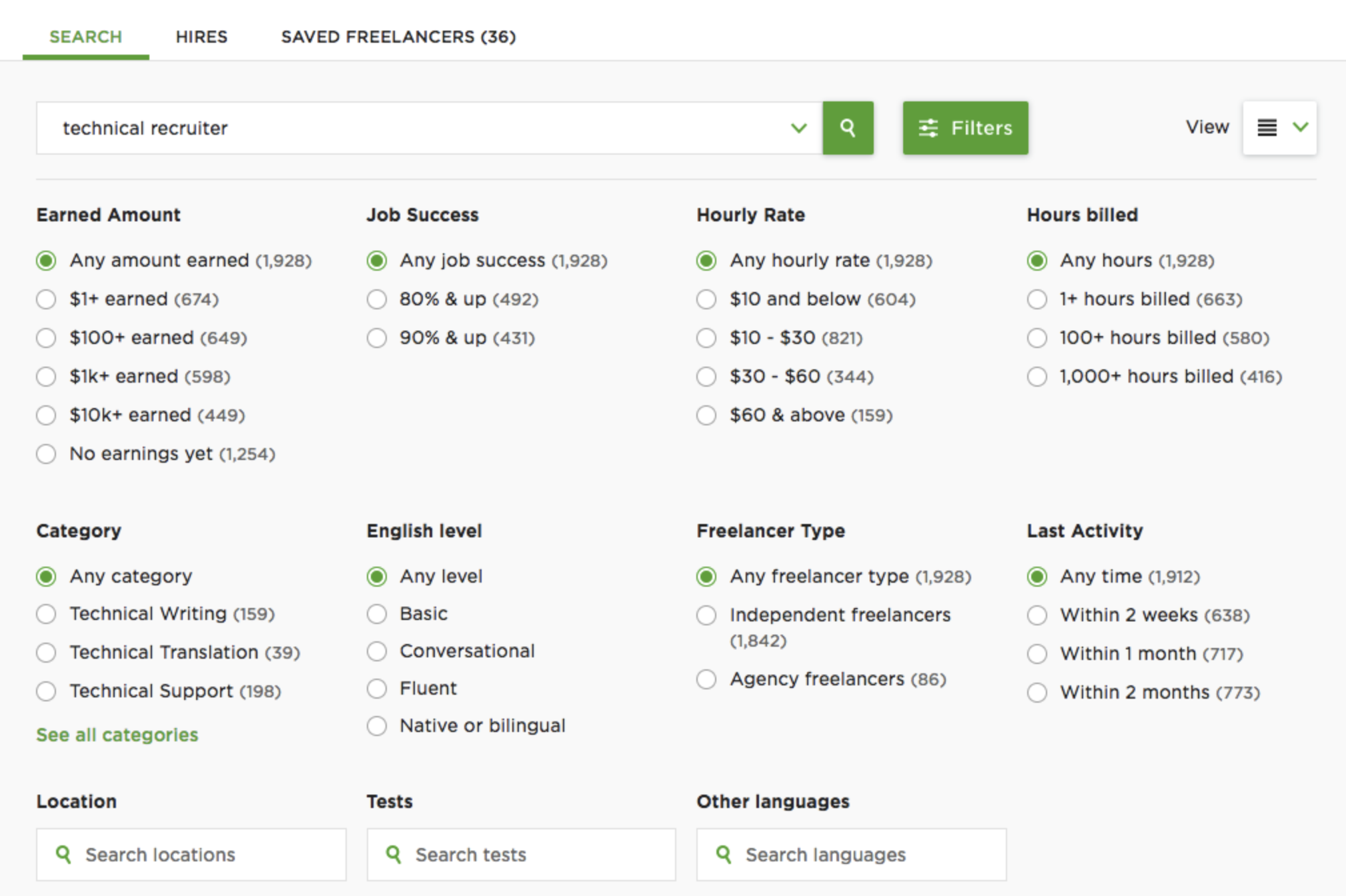 Top features:
Work Diary - a visual record of freelancer's hours and screenshots that show the progress of the work
On site messaging
Easy-to-use interface
Pricing: Freelancers are charged a sliding fee.
2. Relancer
Relancer is a place where team leaders can connect and collaborate with recruitment agencies & freelance recruiters. It is a work marketplace, but one that focuses on recruitment services only. Based on specific hiring needs, Relancer advisors match clients with recruiters that best suit their needs. Relancer offers help with business so recruiters can have more time to work with clients and focus on what they do best.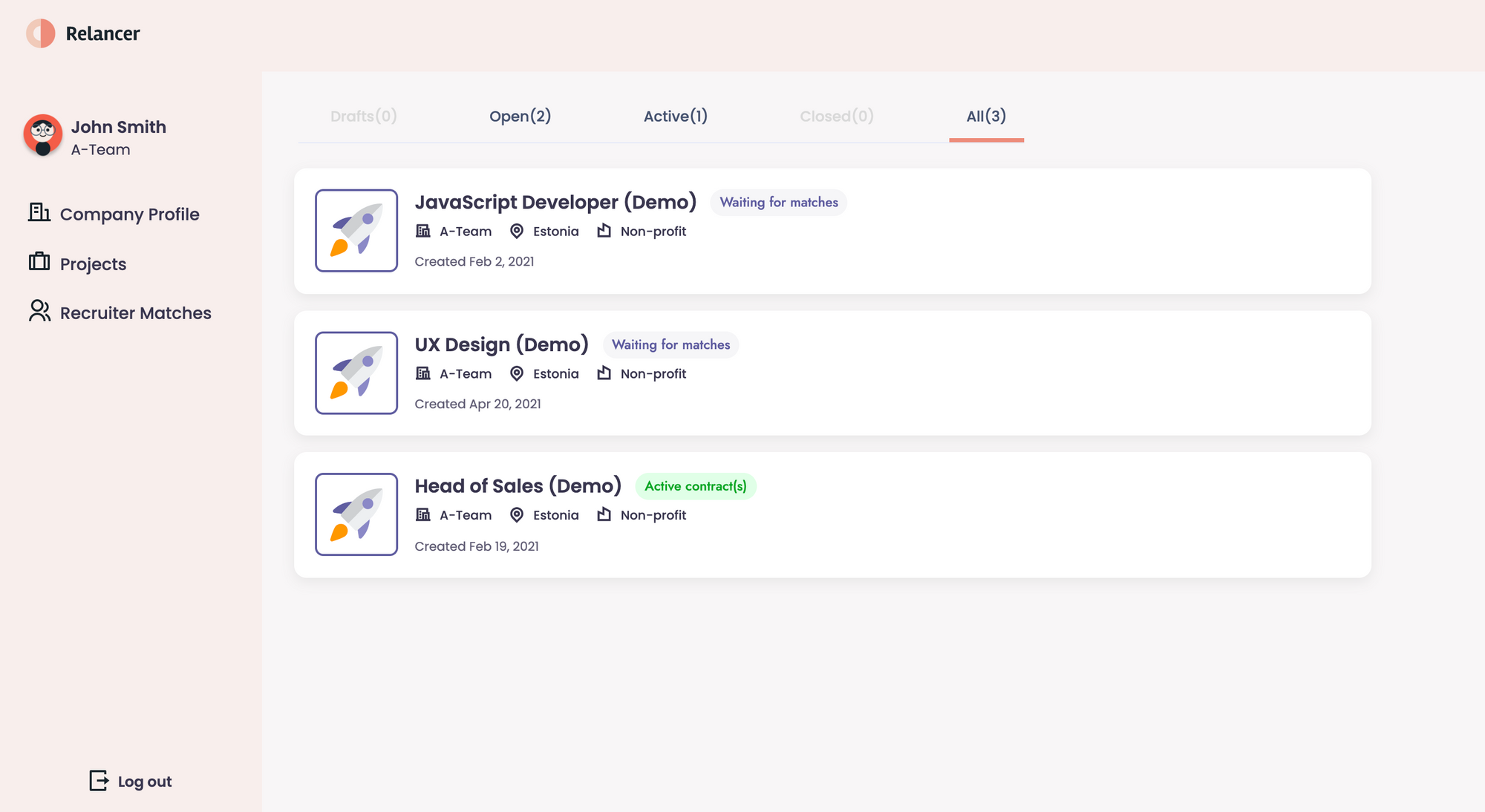 Top features:
Platform specialized in sourcing, recruitment, and HR services providing handpicked matches based on your needs
Direct communication between clients and service providers
No hidden fees that pop up later
Pricing: Freelancers and agencies pay a sliding fee based on the lifetime billings with a specific client.
3. Fiverr
Fiverr is a platform where freelancers sell various digital services, in 300+ categories. When you search for a service (e.g. recruitment), you can sort through the results page to find freelancers that best suit your needs. You can view details such as the number of days for delivery, and compare different packages freelancers offer.
Top features:
Custom Offers
Seller rating & feedback
With Fiverr Business, a list of verified freelancers is available
Pricing: Freelancers pay a fee of 20% fee per transaction.
4. Recruiter
With Recruiter companies can get a stream of candidates for a vacancy or find an expert to recruit instead. If you choose the first option, Recruiter's software will automatically campaign to 150 million talent profiles. You receive qualified candidates via email or your ATS. If you choose to work with an on-demand recruiter, you'll be able to choose between working per project or on a time basis.
Top features:
Large network of both candidates and recruiters
AI software that sources talent
Scoring engine based on machine learning and data science
Pricing: Monthly subscriptions and demos available.
5. Hiring Hub
Hiring Hub's recruitment agency marketplace is where you can find UK's trusted specialist recruitment agencies. This marketplace will give you access to a network of UK-based agencies along with recruiters' reviews and ratings. When you post a job on Hiring Hub marketplace, you state the fee you're willing to pay an agency upfront.
Top features:
Recruiters' successful placement record, metrics and reviews from both employer and candidates
Metrics tracking
Placement fee refund available if a candidate leaves within the first 60 days
Pricing: It costs £159 to post a job.
6. Bounty Jobs
Bounty Jobs platform connects employers and third-party recruiters. There are different solutions to fit the needs of teams and companies of various sizes. Bounty Jobs can be integrated with recruitment tools like Jobvite, iCims and Workday.
Top features:
ATS integrations
Performance-based matching to recruiters (algorithm suggested)
Collaboration tools
Pricing: Connect solution $199/job, Marketplace ​​$199/month, Vendor Manager ​​$299/month
7. LinkedIn
Did you know that LinkedIn has a dedicated services marketplace? You just choose the service, pick a provider based on their experience and recommendations and start working together. Besides searching for providers in the desired location, you can also answer a few questions about your project and receive proposals from trusted providers.
Pricing: You can access LinkedIn services with the basic free LinkedIn account.
RECRUITMENT MARKETING

There's a variety of unique tools that can have a great impact on your recruitment marketing. We're suggesting tools for different needs so you can pick and choose between an all-in-one recruitment marketing platform and individual tools for job ads and events. When it comes to career pages, most modern ATSs already have this feature included.
1. Facebook Ads
If you're not already using Facebook ads for recruiting, you might be missing out. With Facebook ads, you can get your message out to a relevant targeted audience, based on their demographics, behavior, and location.
You can see how this can be handy for recruiters, especially when it comes to hard-to-fill or niche roles. What's cool about Facebook ads is that they can fit any budget, since you can control how much you spend per campaign. Starting out with Facebook ads is not hard and you can find tons of great tutorials online.
Pricing: You can choose how much you spend.
2. Hemingway App
Hemingway App is a free tool that improves your writing and can make your job ads easier to read. The app is super simple to use. Paste your text and you'll get suggestions to make your writing more clear. It will highlight lengthy sentences, suggest simpler synonyms and mark the use of passive voice.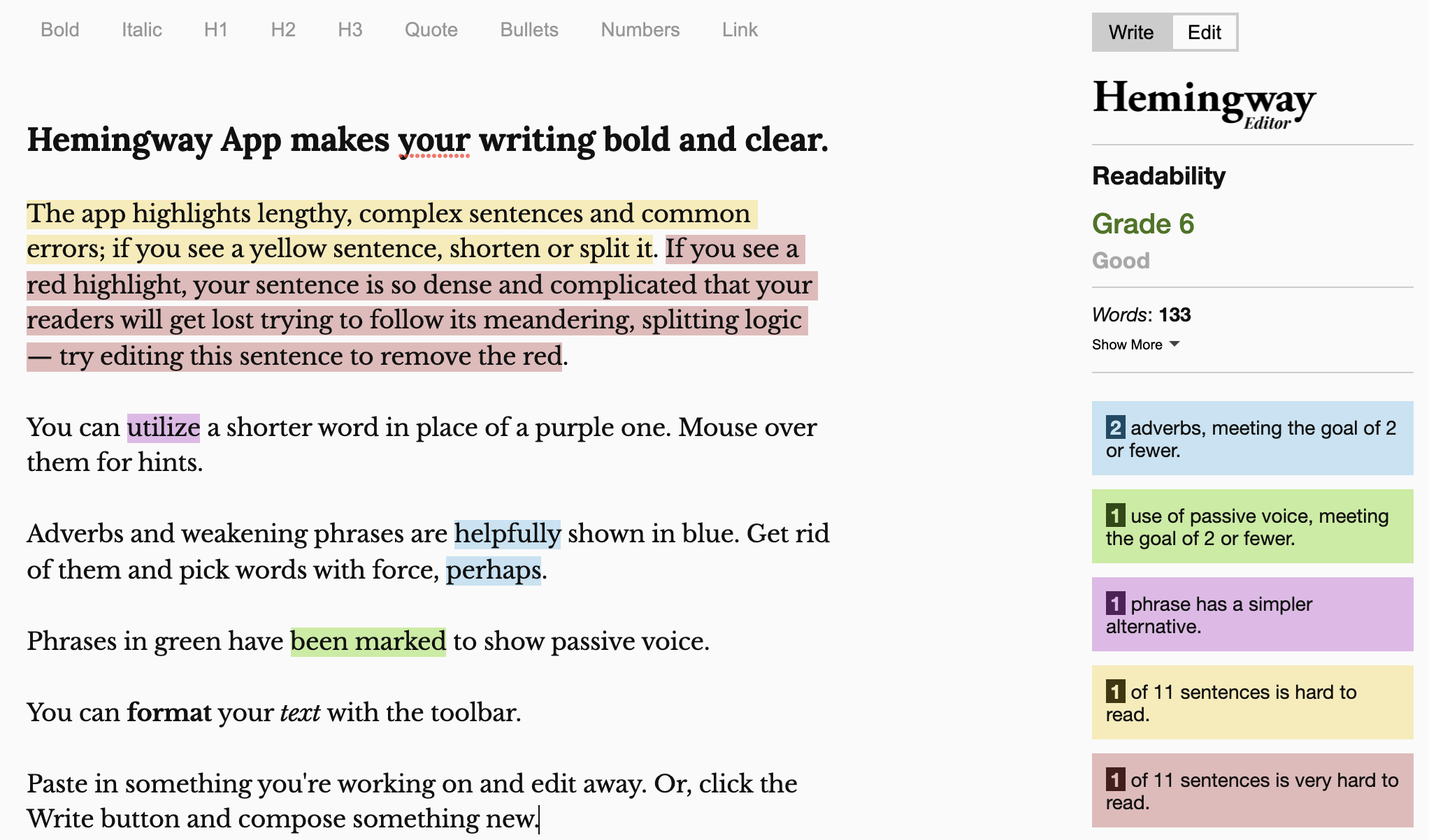 Top features:
Readability grade
Browser and desktop app available
Pricing: The browser version is free to use and you can get the desktop app for $19.99.
3. Textio
Textio is a writing tool that will ensure your job ads are inclusive and on-brand. It will help you choose the right words and make your job ads free of bias, harmful language or gendered phrases.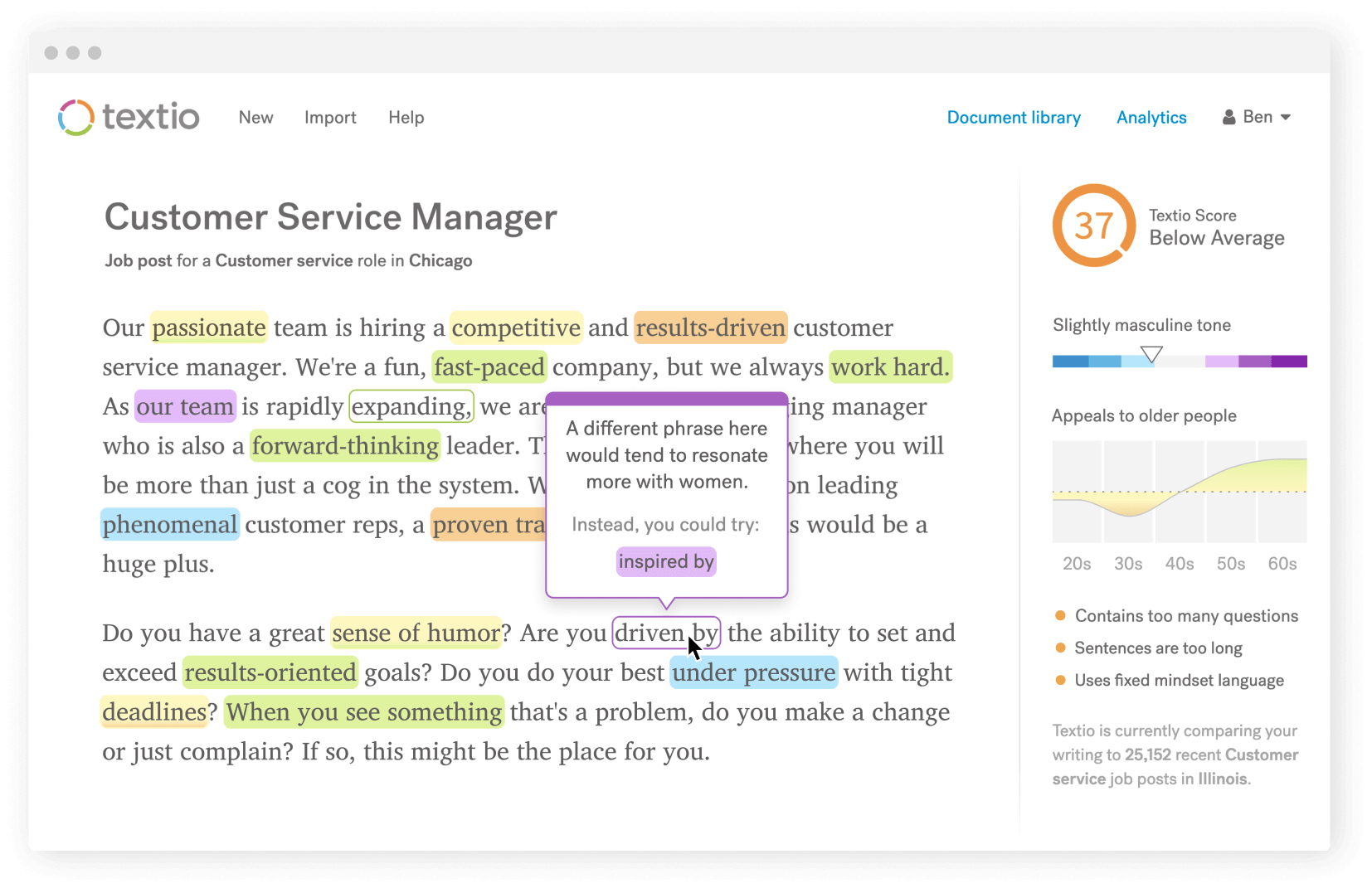 Top features:
Gender, age, and racial bias recognition
One-click equal opportunity statements
Analytics and progress dashboards
Pricing: Pricing is determined by the number of open jobs.
4. SmashFlyX
SmashFlyX Recruitment CRM lets you revamp career sites, help you understand candidates before they apply and capture them with automated advertising. This platform unites a recruitment CRM, career site, programmatic advertising and analytics.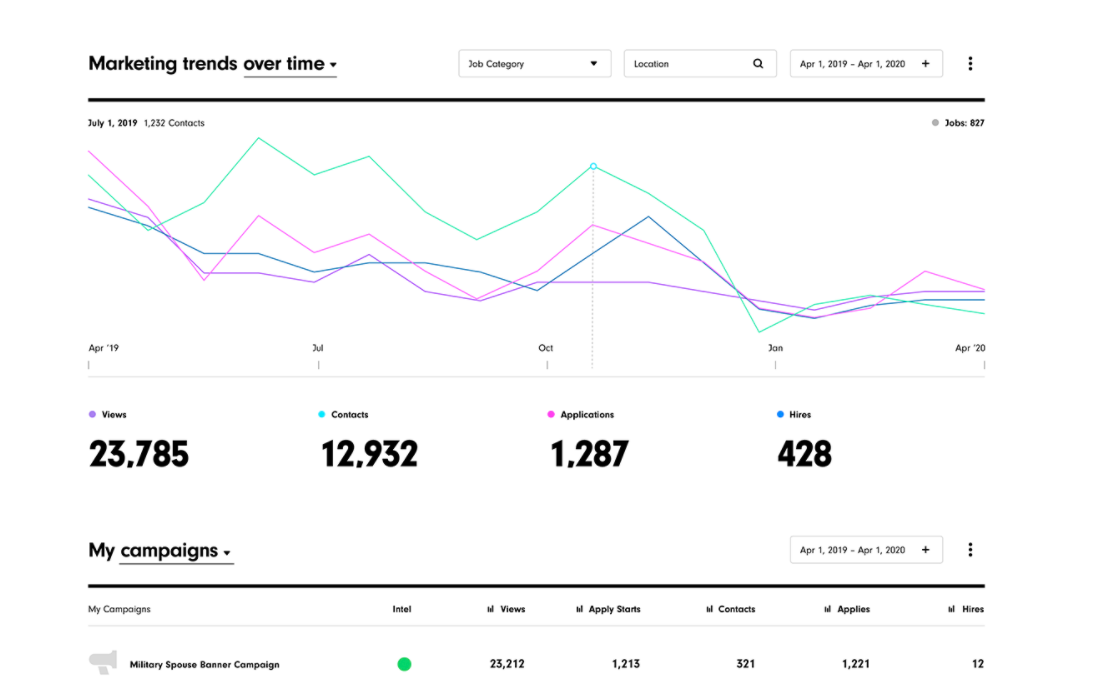 Top features:
Innate automation (examples include self-optimizing advertising campaigns and instant job alerts)
1:1 personalization
Analytics from every point where candidates and recruiters connect
Pricing: Not disclosed on the website.
5. VFairs
VFairs is an intuitive all-in-one virtual event software. It is a stellar solution for hosting online job fairs, interactive webinars or any other kind of online hiring event. VFairs offers many options to customize your event and make it one that the audience will remember.
Top features:
Custom virtual venues and 3D virtual lobbies
Gamification and chat features
Real-time attendee stats
Pricing: Get a personalized event quote here.
6. Canva
Canva has everything you need to make your visuals look like a designer created them. It provides thousands of templates which you can customize based on your needs. One of the biggest benefits of Canva is that you need absolutely no skills or experience to start using it.

Christoph Wiederhold from Happy Hire says that Canva is his favorite recruitment tool because it helps him create "engaging and professionally-looking job ad visuals for social media recruiting campaigns".
Top features:
Large library of templates, fonts, images and other elements
Drag-and-drop editor
Pricing: Free plan, Pro plan for $12.99/month
7. Job marketplaces
LinkedIn is not the only place where you can post a job to reach potential new employees. Here are awesome job marketplaces you should check out:

Hired if you're looking for tech talent.
Relocate if you're looking for tech talent wanting to relocate.
Honeypot if you're looking for developers in Europe.
MeetFrank for all kinds of roles.
AngelList if you're looking for employees to join a startup.
SOURCING TOOLS
Finding qualified candidates is getting harder even for expert recruiters. It takes a lot of hard work. Fortunately, efficient sourcing tools will make your quest much easier and faster. Here are some suggestions of both paid and free tools to assist you in sourcing top talent.
1. Platforms you can source from

1.1 GitHub
GitHub is the largest development platform out there. With 73 million developers, it's safe to say that GitHub is loaded with great tech talent. You can search directly on GitHub or search on Google using strings. When sourcing developers on GitHub, it's recommended you include 3 main things into your search: followers, skillset and location.
1.2 Stack Overflow
Stack Overflow is a public platform for tech-related questions and answers. It can be great for finding new candidates and getting useful information about them. On their Stack Overflow profile users have their bio, location, top skills, link to Twitter profile and more. When using Stack Overflow for recruiting purposes, make sure to follow their rules.
1.3 Meetup
Meetup is an online platform where you can join groups, start groups and find events about nearly any topic. When it comes to sourcing, you can use it to find groups of specific interests or search for profiles of potential candidates. Unlike the first two platforms, on Meetup you can source candidates for all kinds of roles and not just tech.
1.4 Slack
Slack is well-known as a tool for communication between team members. But it can also serve as a great platform to source from. To use Slack for sourcing, start by joining the communities that are relevant to the roles you're searching for. You can let people in the channel know about the job opening. Just make sure not to post generic job postings or post too often as this might be seen as spam by the channel members.
1.5 Medium
Medium is an open platform where anyone can share their story or write about topics they're passionate about. Since it covers a wide range of subjects, you can source professionals from any field. You can use Medium to find out what the candidates are passionate about and where their interests lie.
2. Email finding tools

2.1 ContactOut
ContactOut is a Chrome extension that finds emails from LinkedIn and Github. It lets you find the email addresses and telephone numbers of the people your business needs to hire.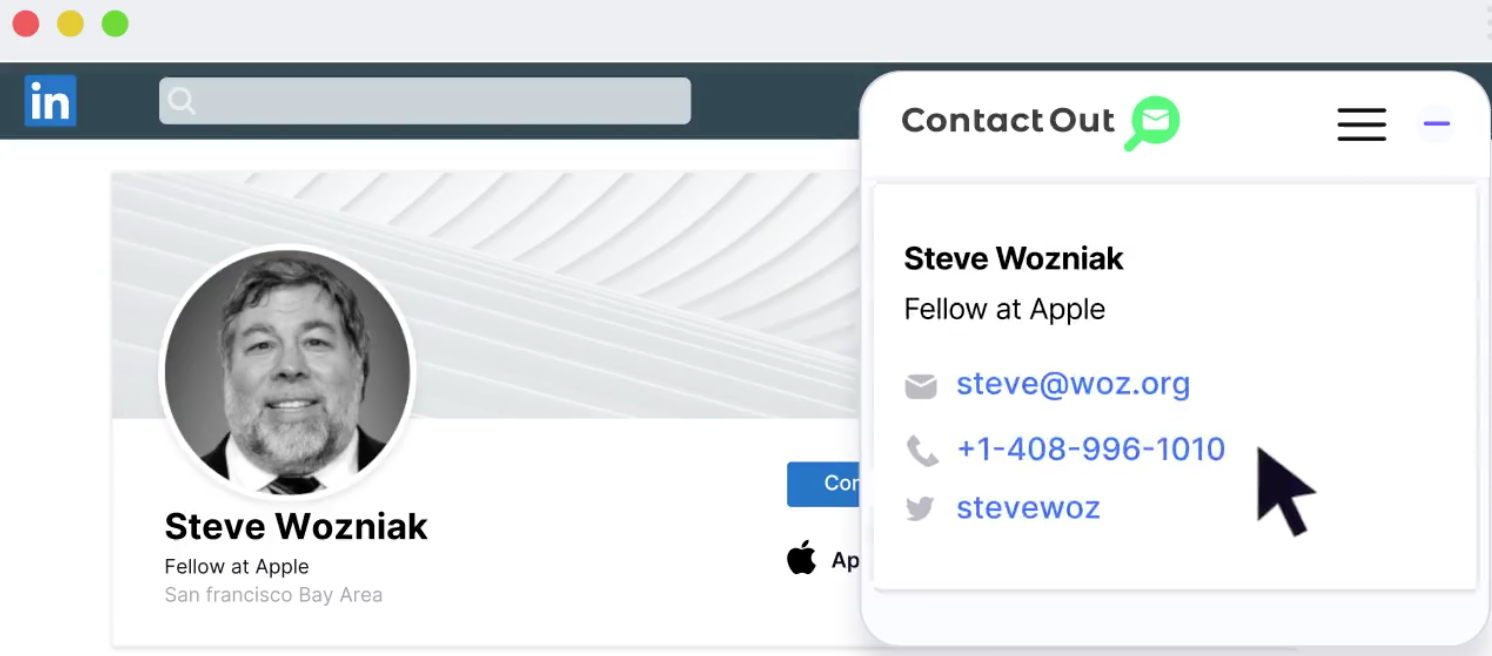 Top features:
Access to one billion emails
LinkedIn sourcing
Email campaigns
Pricing: Basic plan $39/month /user, Sales plan $79/month /user, Recruiter plan $159/month /user
2.2 Hunter
Hunter is a handy tool that lets you find verified emails of any professional. You can use it to get the email addresses behind any website. What makes Hunter popular with users is its simplicity - it's quick and easy to use. Another bonus is that you can start using it for free.
Top features:
Domain search
Bulk email finder
Plugins for Chrome and Google Sheets
Pricing: Free plan available, paid plans starting from 49€ /mo.
2.3 Snov.io
Snov.io email finder tool is part of the CRM and cold outreach tool. Besides finding emails based on domain, company and name, a useful feature is collecting email addresses with Boolean Search. You can search multiple sources and browse by location, position and skills to find the ideal candidate.
Top features:
Variety of search options
Chrome extension
Data exports in CSV, XLSX, Google Sheets
Pricing: Free forever plan available, paid plans starting from $39/month.
3. Email trackers

3.1 MixMax
MixMax is an email tracking software for Gmail. Real-time tracking and alerts ensure that you always know when your email has been opened. Some of the things you can track include opens, clicks, opt-outs and meeting confirmations.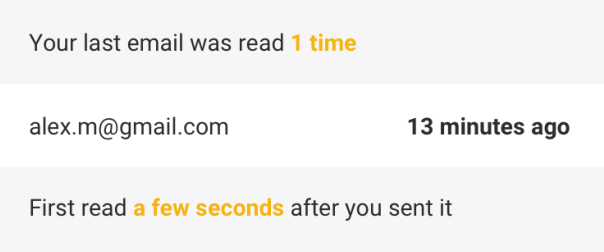 Top features:
Email, Slack, SMS or desktop alerts for actions you choose
Insights from all your communication
Integration with tools like Greenhouse
Pricing: Free plan, paid plans starting from $9/month.
3.2 Docsify
Docsify is a free extension for Gmail & G Suite that lets you track your emails. It'll tell you how many times an email was clicked and opened. You can also track recipients' geolocation and what happens with your attachments, e.g. which pages were read.
Top features:
Real-time push and email notifications for tracking emails
Helps avoid spam filters
GDPR compliant
Pricing: Free
3.3 Mailtrack
Mailtrack is another great email tracker that you can use free of charge. It tracks email activity on Gmail and send you pop-up notifications. Mailtrack has cool features like daily reports of your email stats and Hot Conversations. Hot Conversations let you know when your email has been opened many times in a short period indicating that the recipient is very interested.
Top features:
Hot Conversations
Real time pop-up notifications
Mailtrack for Smartphones
Pricing:  Free plan, Pro plan starting from €1/month, Advanced plan starting from €2.49/month
4. AmazingHiring

AmazingHiring is an amazing (pun intended) sourcing platform that helps you find talent across 50+ networks. Their AI sourcing technology can perform a candidate search making it easier to find candidates for hard-to-fill positions. Amazing Hiring also offers a free Google Chrome extension which you can use to easily find candidates' social media profiles.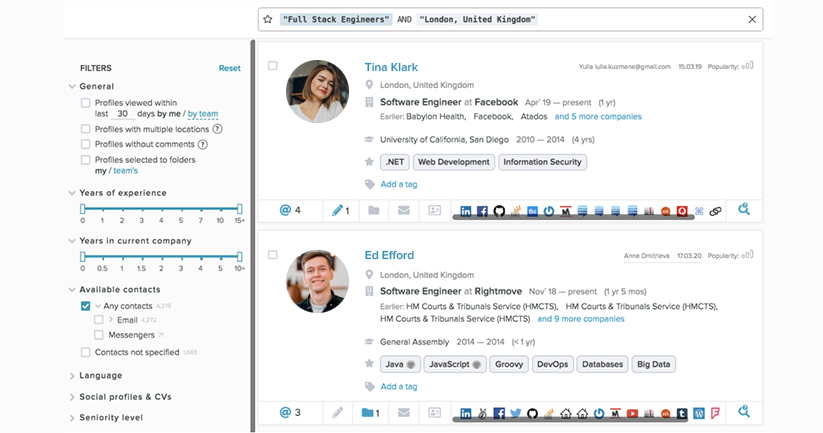 Top features:
Fast Candidate Finder - getting a pool of candidates from 70+ sources all at once
Hidden Stars - for finding candidates not visible on LinkedIn
Email templates, sequences and campaign tracking
Pricing: Not disclosed on a website, but you can book a demo for free.
5. Phantombuster
To put it simply, Phantombuster is a tool that lets you do all kinds of automations and data extractions. Examples of cases when you could use Phantombuster for sourcing are sourcing developers from GitHub, contacting graduates of a specific school or identifying top talents in competitor companies through LinkedIn.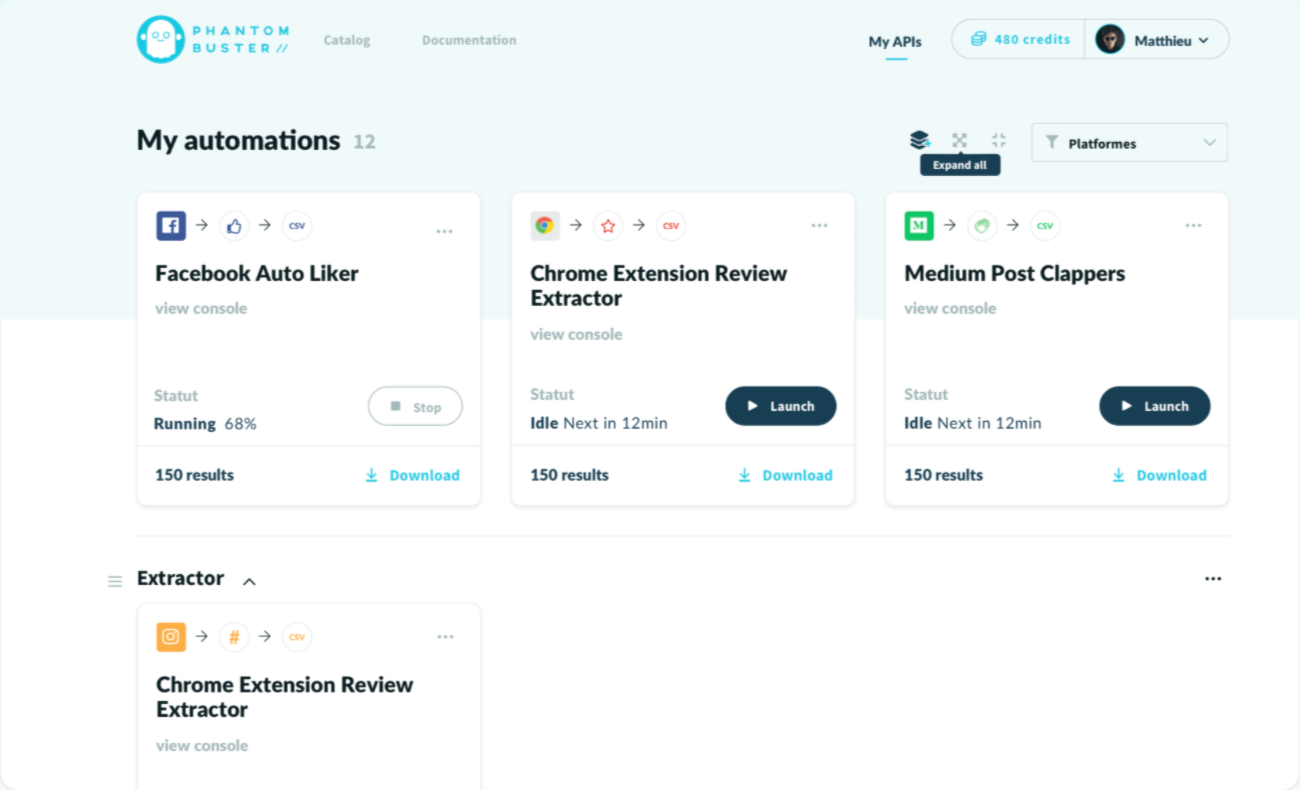 Top features:
Ready-to-use automations on all major social networks and websites
Automating actions like sending customized messages
It's code free!
Pricing: Free plan available, paid plans starting from $30/month.
6. Social List
Social List is a tool for generating lists of social media profiles that match your search parameters. Search for candidates based on location, employers, job titles and relevant keywords. You'll end up with a list of candidates that match all of your criteria. You can then select the candidates whose emails you'd like to have and export your candidate list containing all your information.
Pricing: Individual plans starting from $49.00/month. 7-Day free trial available.
7. OctoHR
OctoHR is a free Chrome extension that can help you get more information about developers based on their GitHub. You can find hidden email addresses and even get a summary of skills of a certain developer.
Pricing: Free
8. Recruit'Em
Recruit'Em (formerly know as RecruitIn) is an easy-to-use recruitment tool developed by a fellow recruiter. This search tool will help you find the right people from LinkedIn, Dribbble, GitHub, Xing, Stack Overflow and Twitter. The best part about it is that it is completely free and registration isn't required.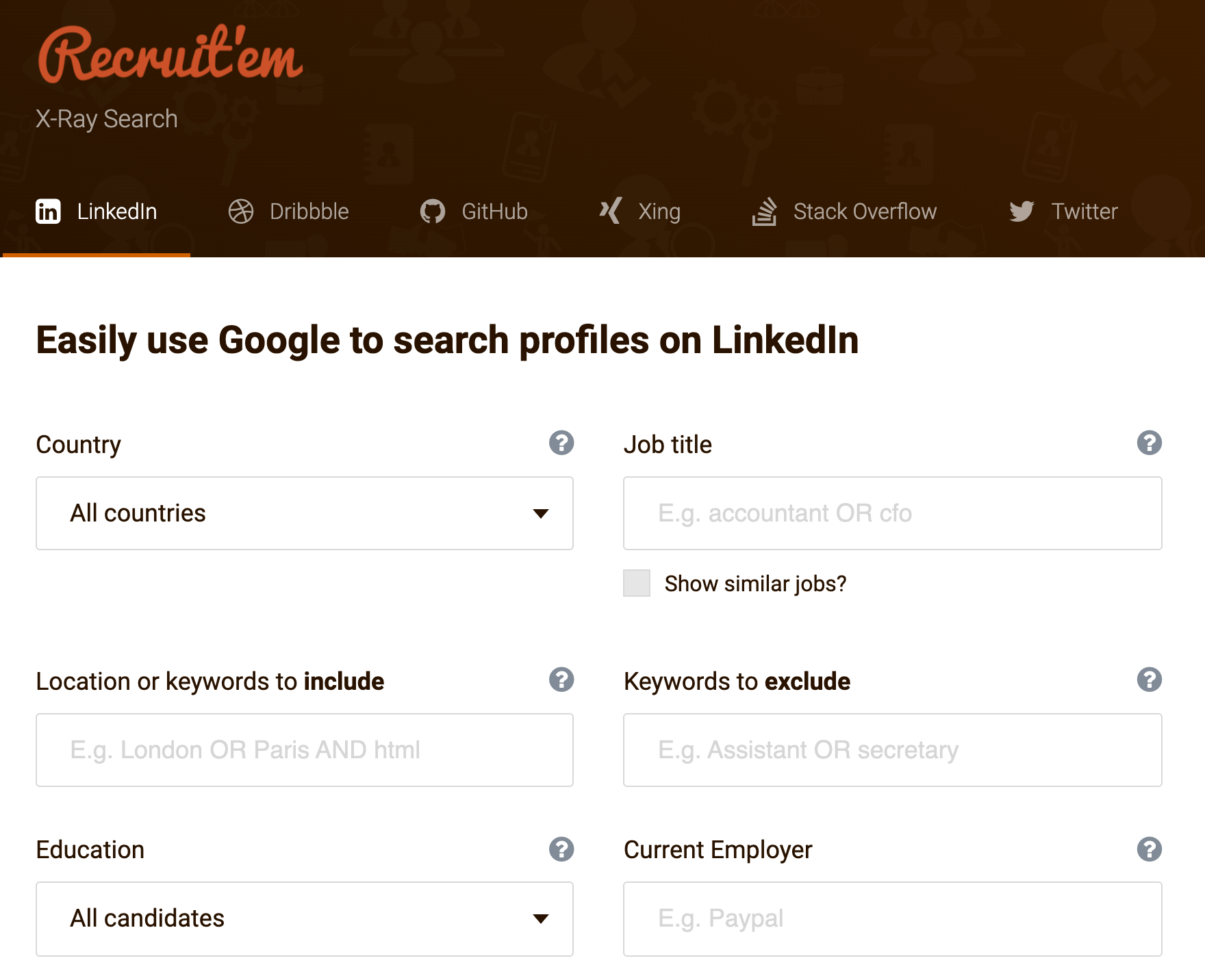 Pricing: Free
9. GlossaryTech
GlossaryTech gives you access to more than 1500 tech related terms so you don't have to Google them. The GlossaryTech Chrome extension will highlight all the tech terms that appear on a LinkedIn profile. All you need to do is hover your mouse over a term to read its definition. Cool, right? GlossaryTech also has a CV scanner tool that serves the same purpose. Paste any CV into the tool and learn the terms mentioned.
Pricing: Free
TESTING & SCREENING TOOLS

There's a number of testing tools on the market,  but many of them are focused solely on assessing developers. We rolled up our sleeves to find great assessment tools that are suitable for all kinds of positions. We suggest 7 tools that you can use for testing hard skills and soft skills for both tech and other types of roles.
1. HackerRank
HackerRank is an ideal choice for testing the knowledge and experience of developers. The platform offers off-site coding challenges that can be sent to candidates, as well as remote first technical interviewing where candidates can show their problem solving skills.
Top features:
Test templates and custom tests
Plagiarism and proctoring controls
Integrations: Greenhouse, Taleo, iCIMS, Jobvite, Smart Recruiters
Pricing: 14-day free trial, paid plans dependent on requirements
2. TogglHire
TogglHire is a tool that allows you to test candidates' skills for roles in development, sales, marketing, customer support, and design. Based on the role you select, TogglHire will automatically create a test that includes the most relevant skills for the job.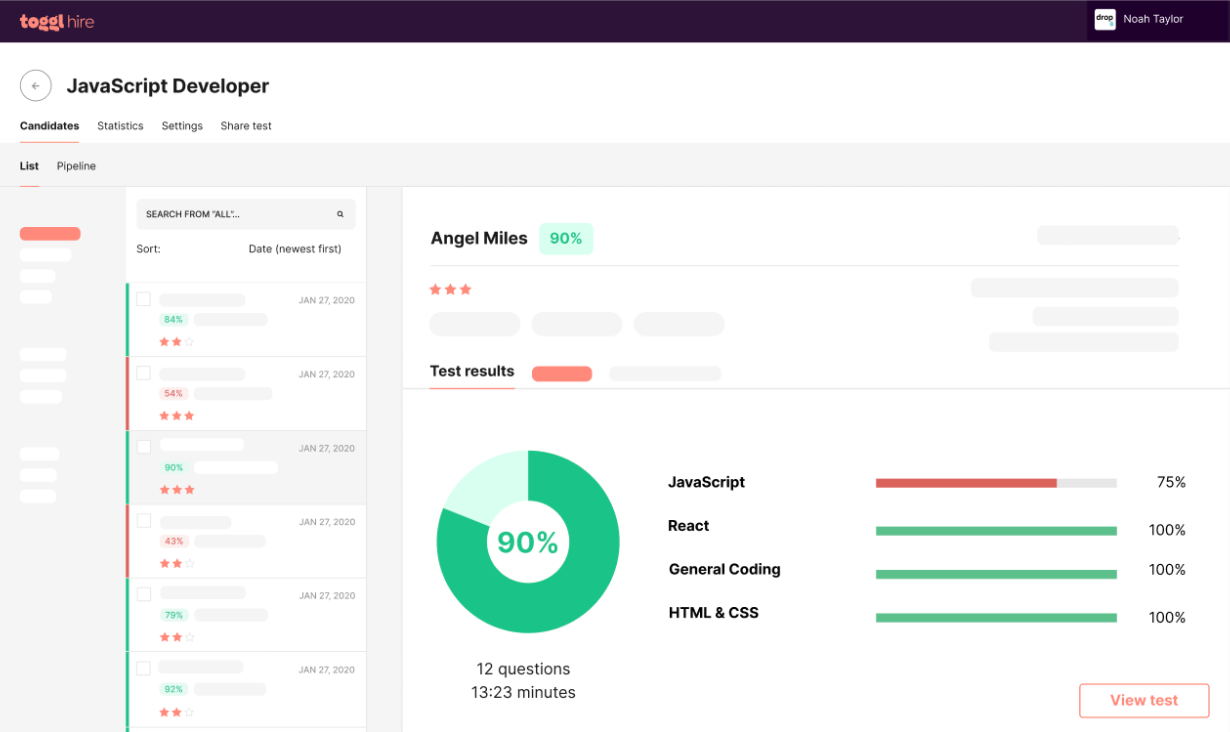 Top features:
Pre-built and custom skills challenges for all kinds of roles
Automatic grading
Integrations: Greenhouse, Workable, Zapier, Slack
Pricing: Free plan available, paid plans starting from $99/month
3. Devskiller
Devskiller offers automated technical screening and tests on programming languages, frameworks and libraries. Tests cover all seniority levels. Devskiller is customizable and easily integrated with ATS.
Top features:
A library of around 4000 recruitment tasks
Unconscious bias reduction
Automated scoring
Pricing: Flexible pricing - Talent Score plan starting from $499/mo, Talent Boost plan starting from $999/mo
4. Codility
Codility helps teams test coding skills of developers at scale. Coding assessments and tests, live challenges and online interviews are some of the features employers can use to make evidence-based hiring decisions.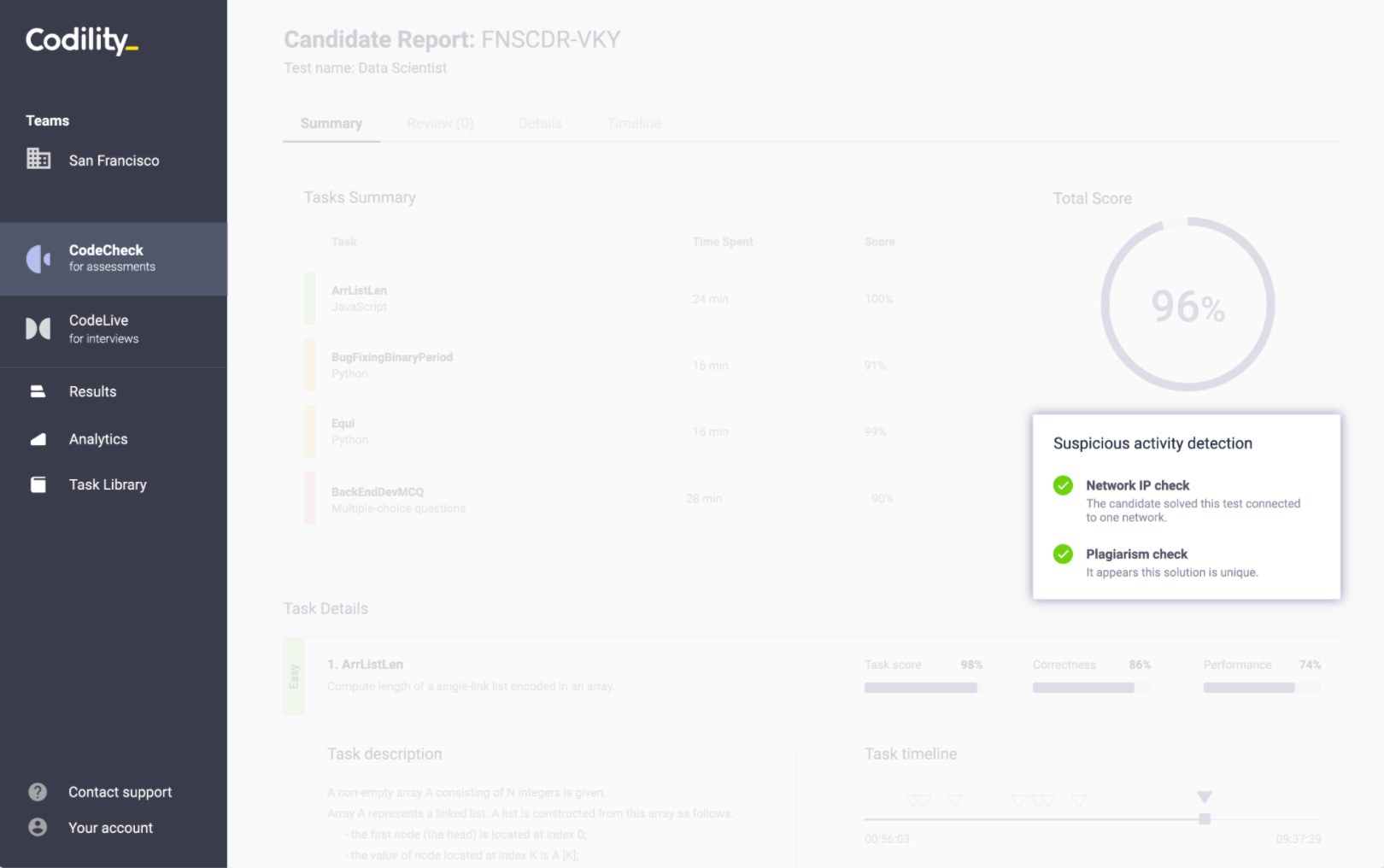 Top features:
Pre-built and custom tests for developers
Hiring funnel analytics
ATS integrations: Greenhouse, Jobvite, Workable, SmartRecruiters
Pricing: Available per request.
5. Pymetrics
Pymetrics applies AI to identify talent bias-free and predict job performance and potential based on complex neuroscience data. It offers gamified soft skills assessment for candidates to help companies build more effective teams.
Top features:
12 games to assess cognitive and emotional attributes
4 games that measure numerical and logical reasoning
Digital interviews
Pricing: Available per request
6. Interview Mocha
Interview Mocha claims to be the most comprehensive skills assessment solution. You can assess a library of 200+ ready IT job-role tests and 2,000+ skills including app development, digital skills, cloud, aptitude, etc.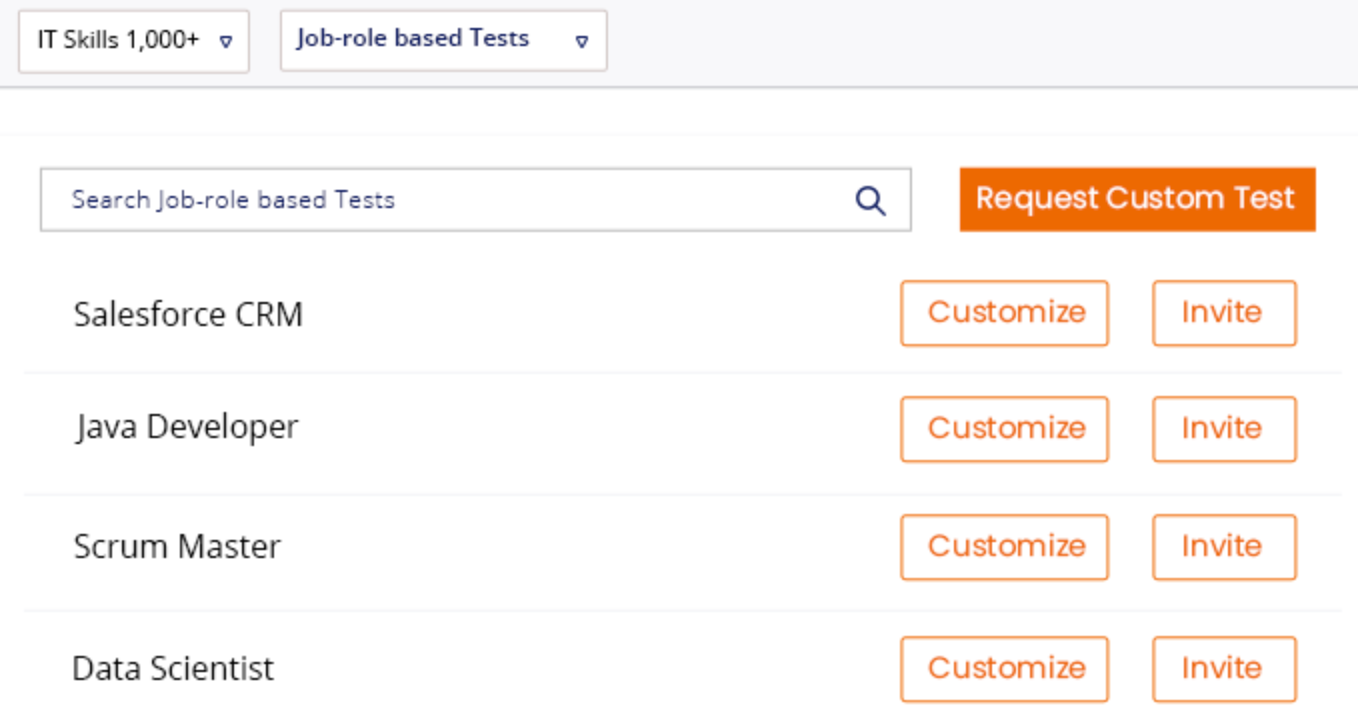 Top features:
Largest skills library with highly customizable assessments
Live interviews
24*7 support
Pricing: Starter plan $150/month, Enterprise plan $500/month, Custom plan per request
7. Harver
Harver allows you to build an engaging candidate experience with interactive videos and a wide variety of assessments. You can test hard skills, cognitive ability and even culture fit. Harver methodology is built to help companies overcome obstacles of volume hiring.
Top features:
Customizable tests for various skills and roles
Automatic grading
Candidate comparison
Pricing: Not disclosed on the website, but you can book a demo.
INTERVIEWING AND SCHEDULING

Using the right tools for the interview stage of the hiring process benefits both the recruiter or interviewer and the candidates. It helps with organization, time-management and can significantly improve the experience for your candidates.
1. TalentCube
TalentCube is a solution for on-demand video applications and interviews. It's also available on mobile, which makes it more attractive to candidates.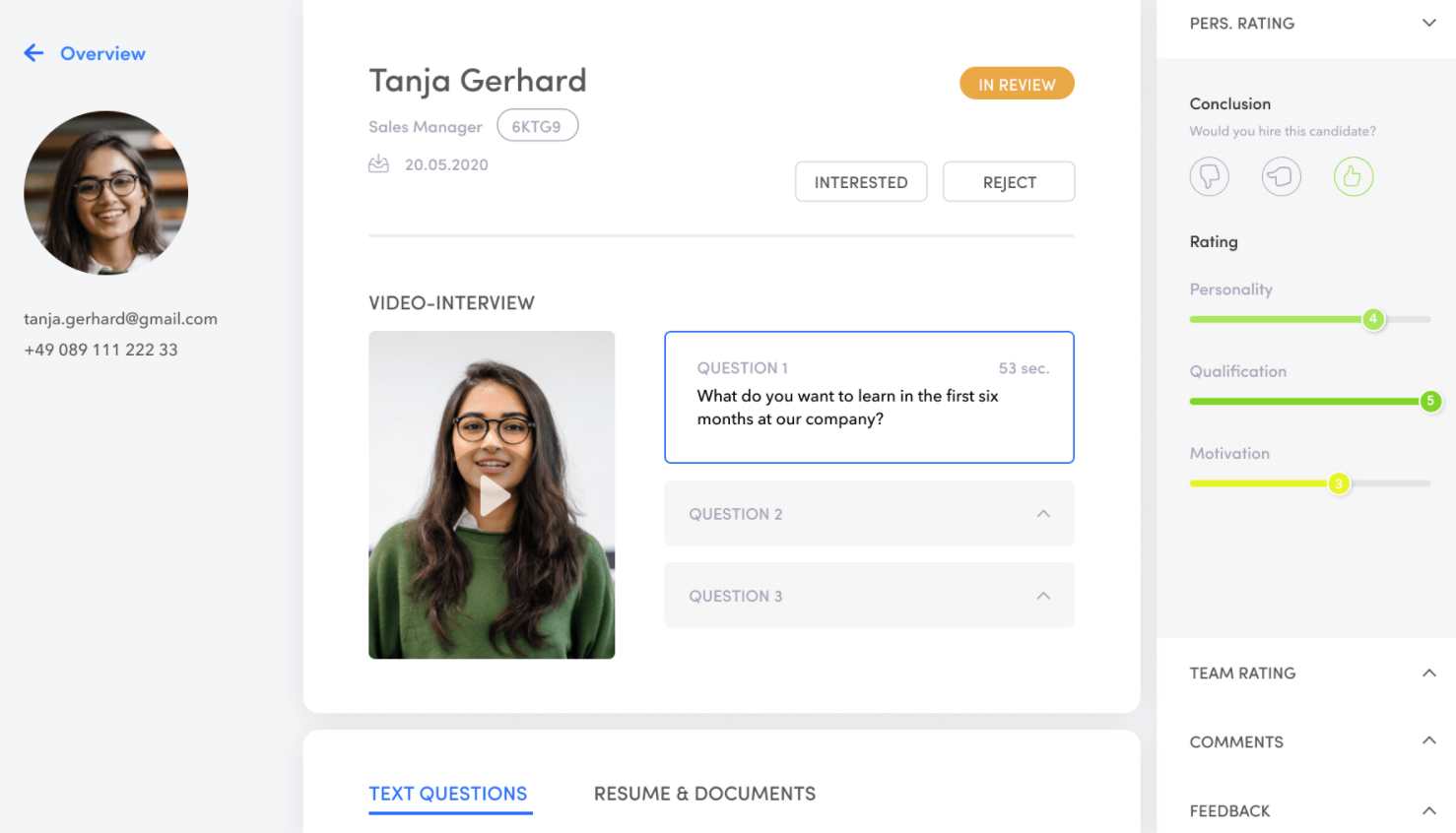 Top features:
Easy-to-do video applications and video interviews
TalentCube support for candidates
Awarded mobile application
Pricing: Individual price quote, 30-day free trial
2. VidCruiter
VidCruiter is an end-to-end online recruitment platform with video interviewing as a standalone product. Both pre-recorded interviews and live interviews are available for you to get to know your candidates in a time and cost effective way.
Top features:
Customizable online interviewing platform to fit your brand
360 Degree Feedback
Integrations include: LinkedIn, SmartRecruiters, Salesforce, Workable, etc.
Pricing: Flexible
3. myInterview
myInterview is a video-centric platform for hiring. It lets candidates reply to questions you've pre-chosen in video format. myInterview Intelligence goes one step further. It scans every video and custom-picks the candidates to watch. Candidate videos are analyzed for things like personality traits, soft skills and relevant keywords.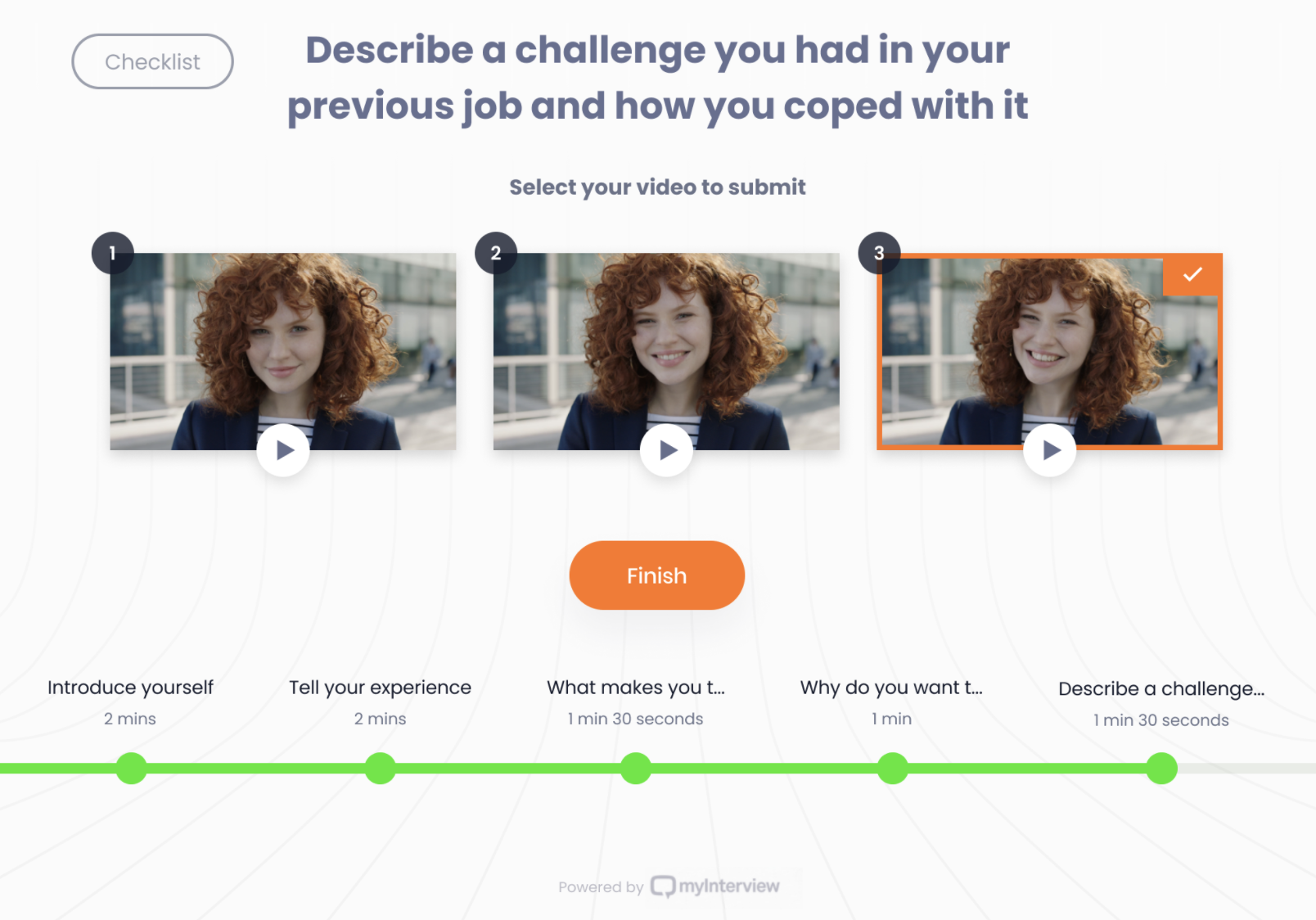 Top features:
Automated shortlist of candidates
Collaboration options - watch the videos together or share your shortlist with others
Live interviews
Pricing: Free plan available, paid plans starting from $39/month.
4. Calendly
Calendly is a simple and smart tool that lets you schedule interviews with candidates without going back and forth with emails. Candidates will be able to schedule a meeting with you by choosing one of your free time slots.
Top features:
Integration with all your calendars to avoid double-booking
Fully optimized for all devices
Simple and modern interface
Pricing: Basic plan FREE, Essentials plan $8 /seat/month, Professional plan $12 /seat/month, Teams $16 /seat/month
5. Calendar
Contrary to its name, Calendar is no ordinary online calendar. Both AI and machine learning are used to develop a scheduling experience tailored to your needs. The more you use Calendar the better experience you get. Scheduling is easy and you can also get Calendar analytics to know just how much time you spent in interviews.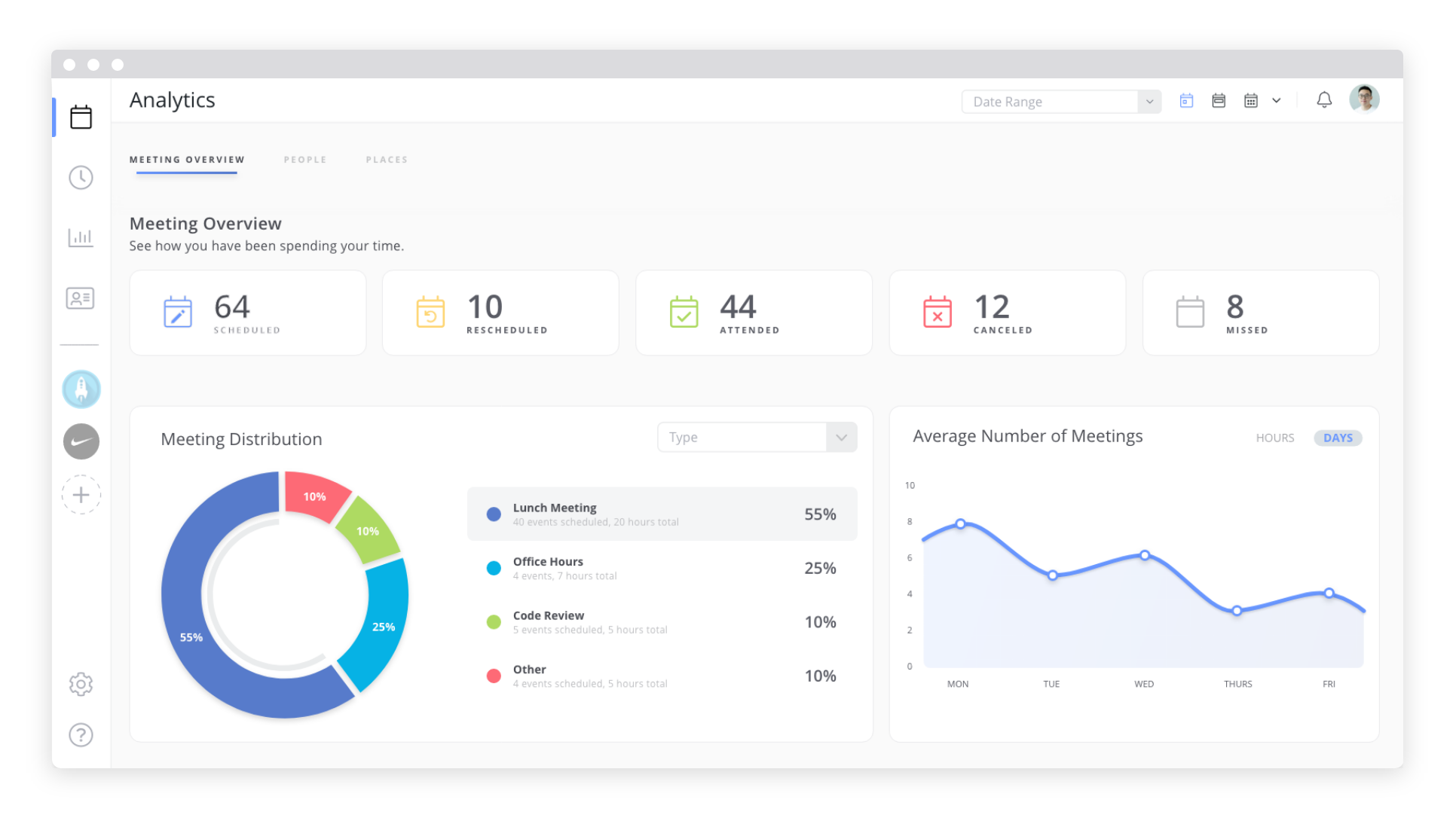 Top features:
Personalized scheduling link
Integration with Google, Office 365 and Outlook calendars
Available on mobile
Pricing: Free Basic plan, Standard plan $6/mo/user, Pro plan $8/mo/user.
6. Zoom
Zoom is a top-of-mind solution when it comes to any type of online meeting. It is simple and can be a great budget-friendly choice. The basic plan is free and there are options for both small teams and enterprises. Chances are both you and your candidates have used Zoom and already know how it works.
Top features:
Build-in scheduling
Waiting room
Virtual backgrounds
Pricing: Basic plan FREE, Pro €13.99/month/license, Business €18.99/month/license, Enterprise €18.59/month/license
7. Google Meet
Google Meet is another popular and widely used tool for meetings and interviews. Its biggest advantage might be that it is a part of the Google Suite and therefore connected to your Google Calendar. When you schedule an interview in Google Calendar, a Google Meet event is automatically created and added to your calendar.
Top features (available in the free plan):
Unlimited number of meetings
Works on all devices
Integration with Google and Microsoft Office apps
Pricing: Free Google Meet plan, Google Workspace Individual $7.99/month, Google Workspace Enterprise pricing available per request.
APPLICANT TRACKING

When it comes to applicant tracking, you can go with end-to-end ATS solutions or free alternatives like Google Sheets. Both can make great options if you use them well. ATS software provides recruiting tools which help you organize and keep track of all hiring stages in one place. A good applicant tracking system can automate and speed up the hiring process which should lead to recruiting better candidates.
1. Google sheets
A great free alternative for applicant tracking. Google sheets work wonders for any type of clean and organized list or table. So why not use it for tracking applicants? With some time and a few formulas, you can make a great sheet from scratch. You can also find free templates created for applicant tracking purposes, like this one.
Pricing: Free plan available, Business Standard plan $12 USD/user/month
2. Recruitee
Recruitee is a modern ATS and a recruitment software that helps teams collaborate. It's an intuitive platform with a ton of useful features so it's no wonder companies like Hotjar, Asus and KFC have used it. However, Recruitee has plans for companies of all sizes as well as a 18-day free trial period to try it out.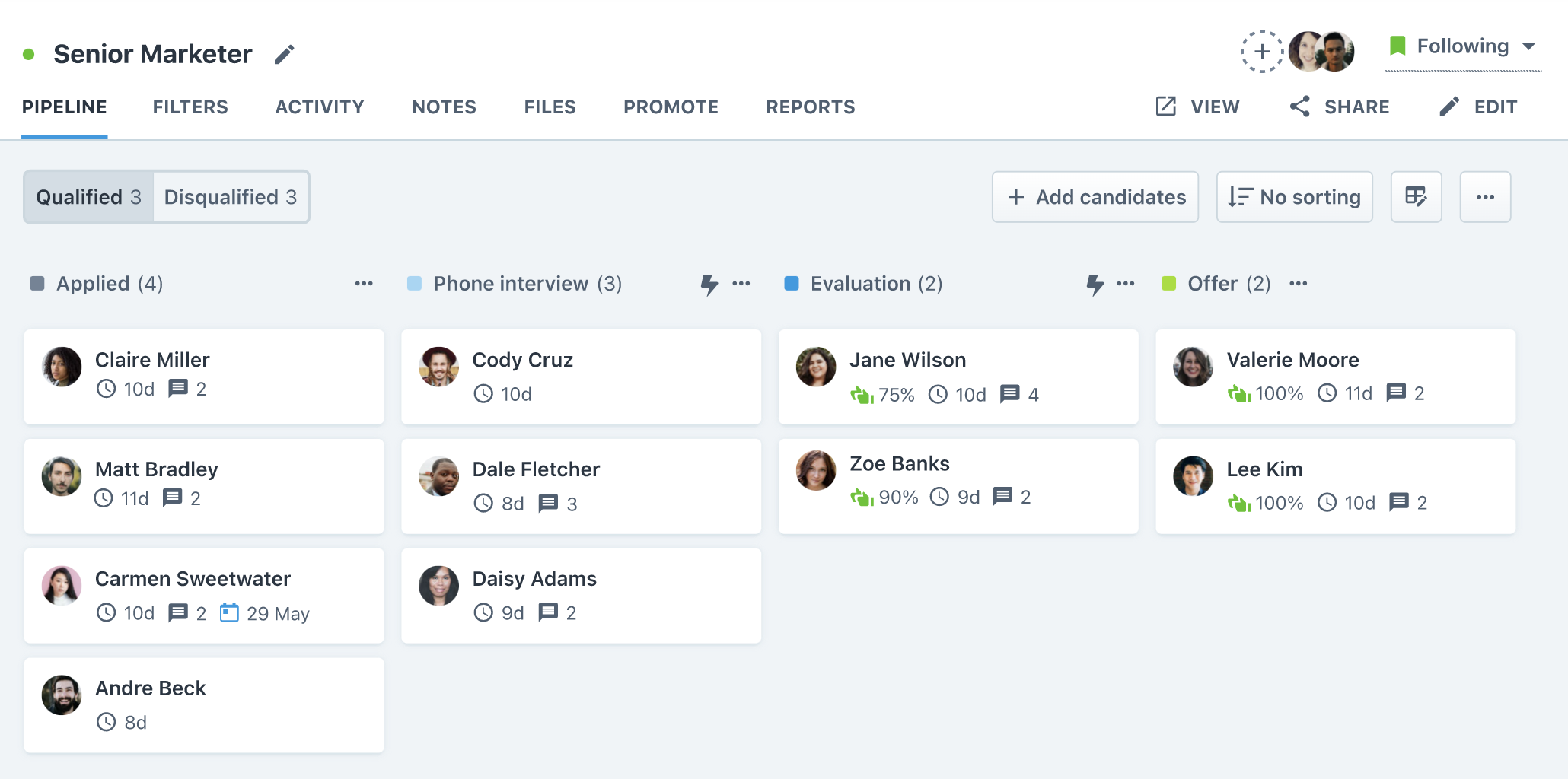 Top features:
User-friendly candidate pipelines and automated tasks
Award winning support including live chat
Pre-built integrations with tools like Slack, Devskiller, BambooHR and Zoom
Pricing: Launch plan €199/month, Scale plan €349/month, custom pricing for Lead plan
3. Teamtailor
Teamtailor describes their product as a recruitment & employer branding ATS. This solution focuses on attracting, nurturing and hiring talent for both startups and large corporations. With one plan you get access to all of the features for an unlimited number of users. When it comes to applicant tracking, you can build a customized workflow, collaborate with your team and use the internal chat.
Top features:
Customized recruiting funnel with custom stages, triggers and bulk actions
Easy to use tool with quick onboarding
Live chat support with 3 minute average response time
Pricing: Pricing adapts to the size of your company. 14-day free trial available.
4. Workable
Workable is a flexible, mobile-friendly platform to make your hiring easier and faster. This all-in-one solution helps you find candidates, test and hire them. One impressive feature is Workable's AI Recruiter technology that leverages knowledge from hosting 85m candidates. One of the ways the AI Recruiter takes sourcing to the next level is by providing a list of 50 passive candidates for any job.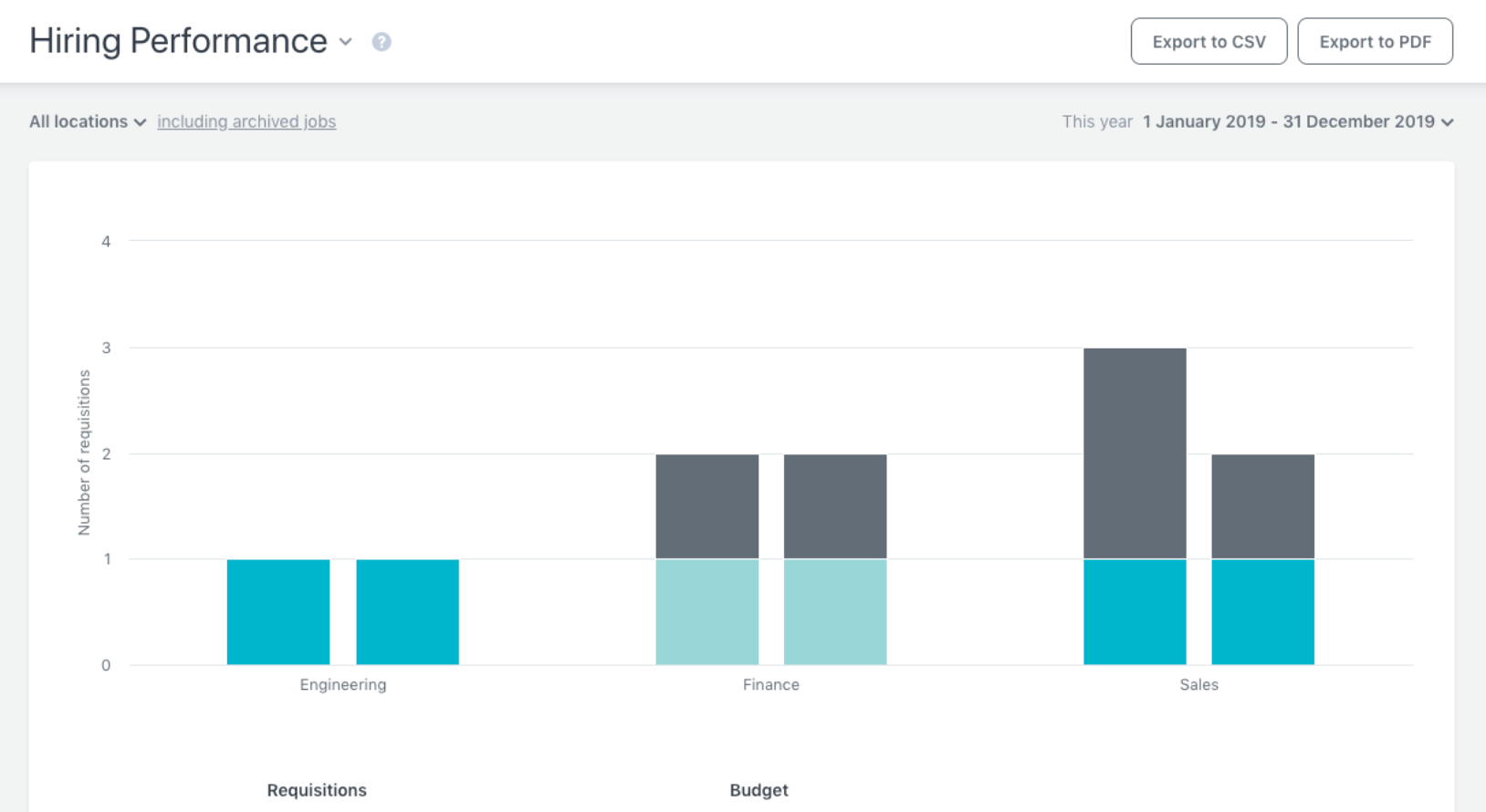 Top features:
Automated sourcing with AI Recruiter and Workable Chrome extension
Posting on 200 free and premium job boards in one click
Bulk communication to candidates
Built-in repoting and analytics
Pricing: 15 day free trial, Paygo plan $99/job/mo, other plans dependent on requirements
5. RecruitLab
RecruitLab is a simple and flexible recruitment solution that is a great option for both employers and recruitment agencies. It is easy to implement so you don't have to change your recruitment process to start using the software.
Here's what a CEO of a recruitment agency says about using RecruitLab.
"It helps me to be more effective by scheduling interviews easily, have a good overview of my projects and track the candidates. There is also a video recruitment solution in the software. For example, I really like to use the asynchronous (on-demand) video interview tool that helps me to make the preselection process more precise and it also gives more candidates a chance to introduce themselves."
Minna-Maria Lõbus, CEO and Consultant at Brandem
Top features:
Applicant tracking tool with a drag-and-drop feature
Flexible applicant forms
Recruitment metrics and statistics
Pricing: 30-day free trial, plans starting from 198 €/year per organization
6. Lever
Lever is an award winning recruiting software that combines ATS and CRM in a single solution. With personalized communication you maintain a pipeline of engaged candidates. Automation options help you save plenty of time. Lever offers premade and customizable dashboards for viewing your insights.
Top features:
Workflow and process configuration
Offer management
Access to Lever's integration ecosystem
Pricing: No pricing disclosed on the website. Free demo available.
7. TalentAdore
TalentAdore's Virtual Recruitment Assistant is an ATS that helps you handle the entire recruiting process while focusing on talent engagement and candidate experience. You can improve candidate communication by using automated messages and sending personalized feedback and updates. Candidate Profile Multi-View enables viewing all candidate information while making notes and reviews.
Top features:
Workflow Automation
Easy way to evaluate clients
Real-Time analytics including recruitment data and feedback
Pricing: No pricing disclosed on the website. Demo available.
8. Beamery
Beamery helps you manage talent through your pipeline in a single platform. Your candidate database will always be up-to-date and you can automatically fill talent pools with suitable candidates. Pretty much any workflow can be automated and you can simplify reporting with pre-built dashboards.
Top features:
Talent pool feature
Automation engine
Activity tracking
Pricing: Pricing not disclosed on the website. Demo available.
ONBOARDING

The hiring process doesn't end with hiring the right candidate. There is one more important step - the onboarding process. Research by Glassdoor found that onboarding can improve employee retention by 82%. With that in mind, let's see which tools can be useful in the onboarding phase.
📌 Before looking for an onboarding tool, you might want to check if your ATS already has this covered.
1. Trello
Trello is a great free alternative to specialized onboarding tools. This well-known tool offers an easy and flexible way to manage your projects. One of the ways you can use Trello is for onboarding new employees.
Trello has a new employee onboarding template that looks like this: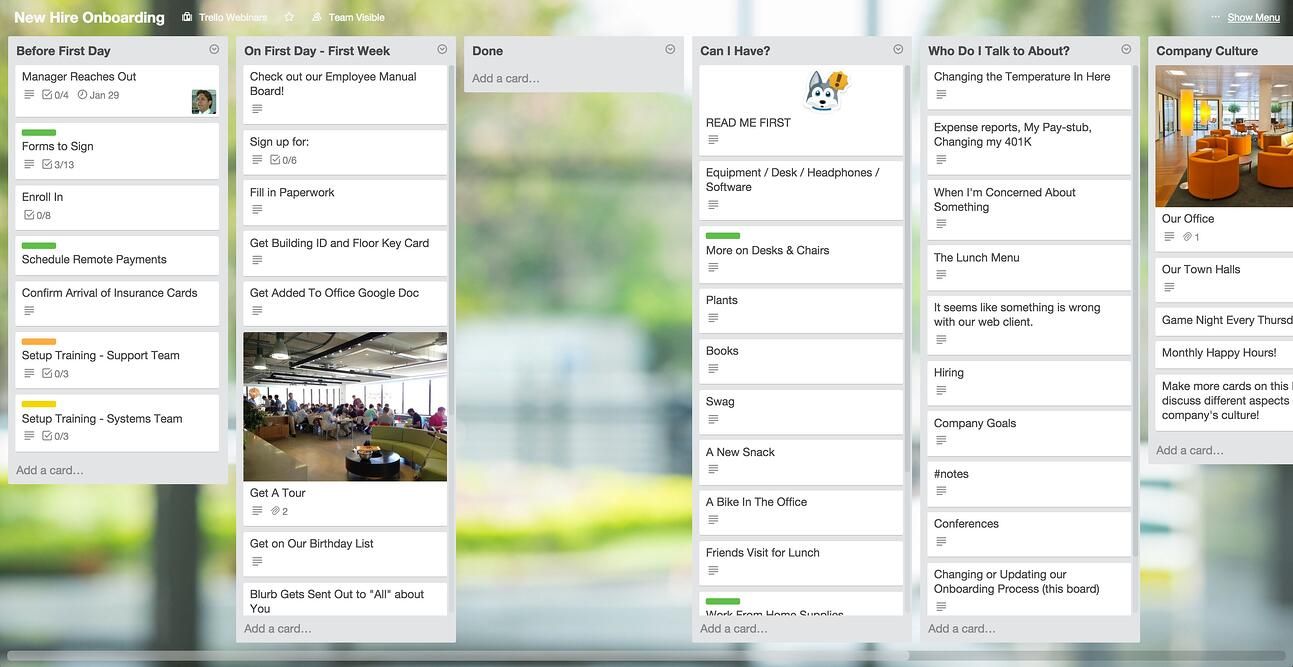 Besides onboarding, Trello can be a great alternative for other stages of the hiring process. You could easily use it for applicant tracking. Many recruiters choose to do this as a simple and more affordable alternative to ATS tools.
Top features:
Drag-and-drop editing
Easy organization with labeling, tags, and comments
Workflow automation and keyboard shortcuts
Trello templates
Pricing: Free plan (with plenty of great features), Standard Plan $5/user/mo, Premium Plan $10/user/mo, Enterprise Plan up to $17.50/user/mo.
2. Enboarder
Enboarder Virtual Onboarding solution offers a way to add human touch to a digitized onboarding experience. You can create personalized experiences, connect buddies, and coach managers to onboard their new hires. Automation and feedback options along with useful integrations, make Enboarder a great tool.
Top features:
Mobile-first tool with no logins, downloads or app notifications
Coaching for managers
Instant and automated feedback
Pricing: Pricing not disclosed on the website. Demo available.
3. ClickBoarding
With ClickBoarding, you can get a complete understanding of where your new hire is in their process. You get alerts for what needs attention so you can take immediate action. Use suggested templates or change up content to create a customized onboarding experience.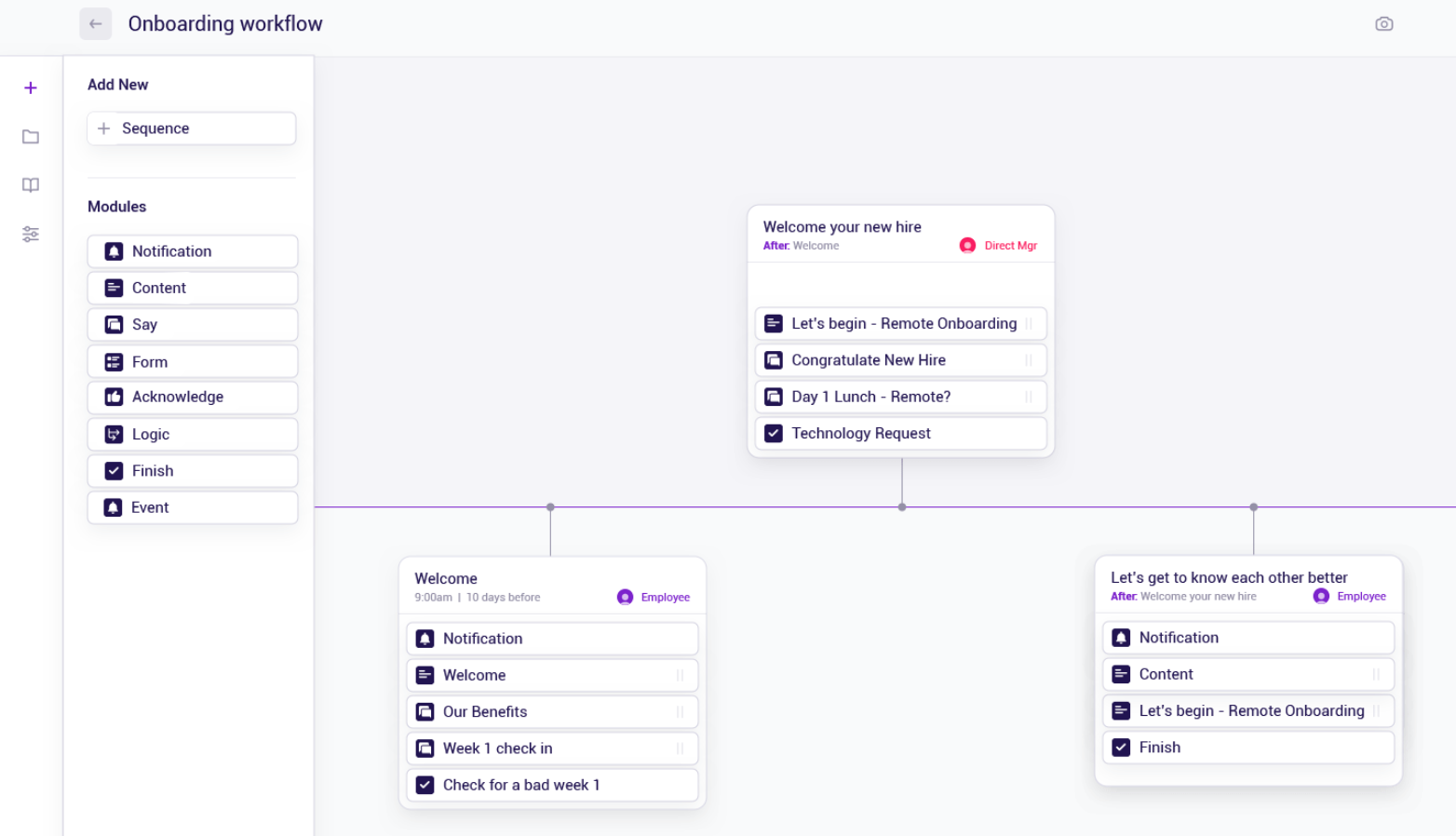 Top features:
Workflows specific to each employee (role location, level, stage in their journey, etc.)
Smart forms and seamless compliance (no paperwork!)
Customizable and branded content including videos, office maps, cultural norms
Pricing: Not disclosed on the website.
4. Talmundo
Talmundo offers a unique onboarding solution that engages employees early on in the process. It is designed to help new employees onboard faster and make your job easier. Talmundo is a fully responsive cloud software solution for intuitive employee onboarding. This means that you can access it anytime from any device.
Top features:
Customizable content pages and scheduled content delivery
Time triggered to-do list and notifications
Onboardee segmentation and custom reporting
Pricing: Not disclosed on the website.
5. monday.com
monday.com has an entire system for HR teams. It includes a recruitment pipeline, onboarding process and employee management. You can make onboarding a breeze using a premade template that you can customize to your company's needs.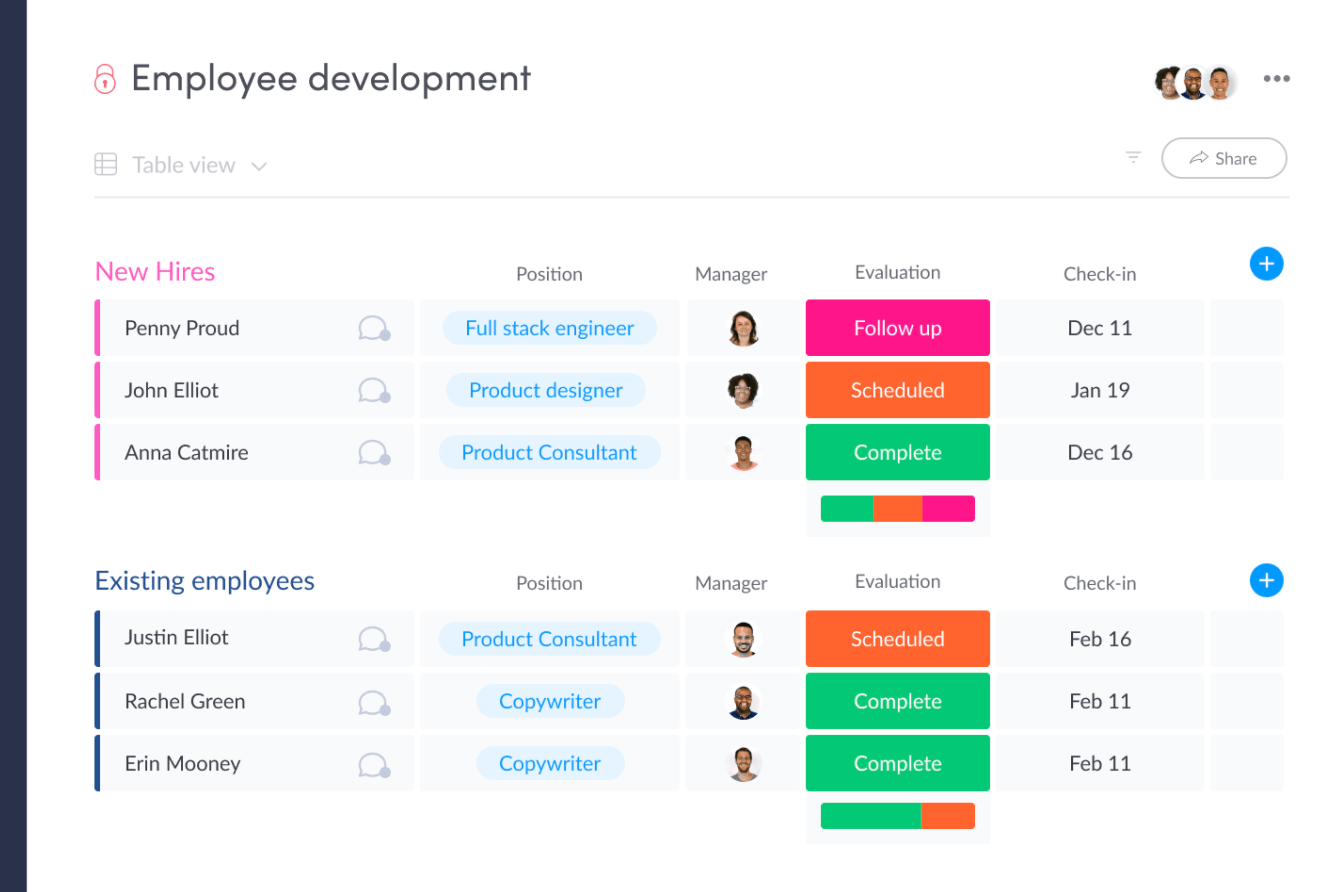 Top features:
Visual and easy-to-use interface
Ready-made templates
Integrations with tools that you might be using already (eg. LinkedIn, Gmail and Microsoft Teams)
Pricing: Pricing depends on team size and type of plan.
6. Zenefits
Zenefits is an all-in-one HR software that combines various HR tools including onboarding. According to Zenefits, customers have been able to complete onboarding for a new hire in under 10 minutes. With all the information ready for them, new hires can onboard themselves independently.
Zenefits offers features to manage not only onboarding but also:
Payroll
Benefits
Compliance
Time and attendance
Pricing: Essentials plan $8/month/employee, Growth plan $14/month/employee, Zen plan $21/month/employee
7. BambooHR
BambooHR is an all-in-one HR software that is designed to help small and medium businesses. Their onboarding solution helps you get any paperwork out of the way fast and focus on the new employees' experience. The onboarding experience can be personalized for any role and department. For this purpose, BambooHR has an entire library of templates.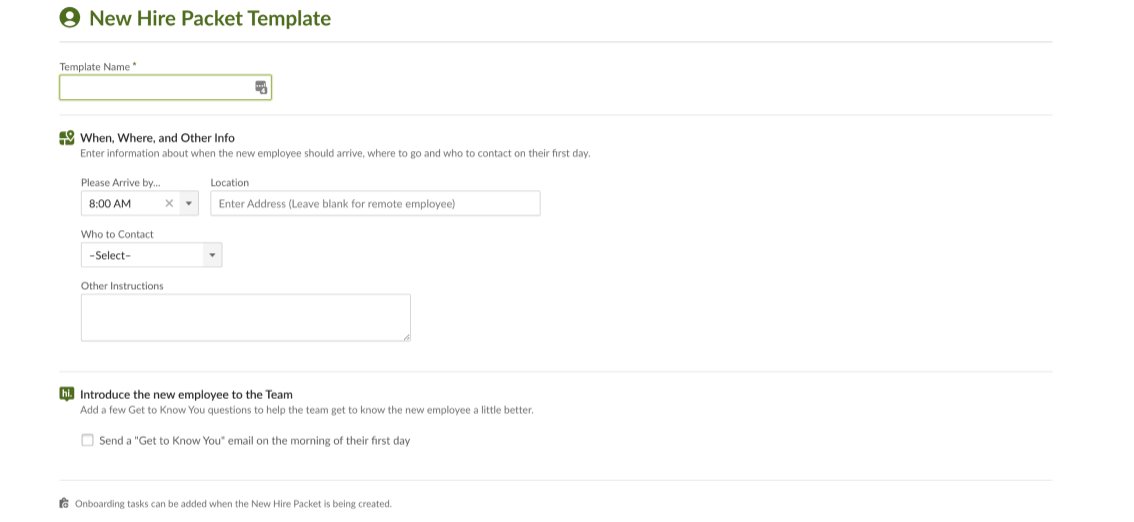 Top features:
Onboarding checklist including tasks and their due dates
Customizable new hire packet
Setting up electronic signatures during onboarding
Pricing: You can get a price quote for your business here.
Wrapping up
64 tools later, it's time to make your own list!
Pick out the recruitment tools that focus on your current recruiting challenges and that you'd like to try out. The good news is that most of the paid tools offer a free trial or free demo. So, you can test them or learn everything about them before investing a cent.
Good luck in updating your recruitment tech stack! 🍀
To get started with Relancer, sign up here.