Relancer, a marketplace-platform that empowers collaboration between businesses and external recruiters, announces 300,000€ funding round from a leading Finnish VC fund Superhero Capital.
Opposite to the buzzing AI and automation trends in recruitment, Relancer prioritizes human intelligence. "Most startups want to cut recruiters out or massively overload them with low-quality candidates. We are passionate about empowering recruiters and becoming the largest hub of professional recruiters around the world," explains Eero Veider, the CEO of Relancer.
Relancer was initially created to provide part-time (yet professional) recruiters for early-stage startups and SMBs with limited budgets and no in-house expertise. Today, however, Relancer's users come in all sizes and from all industries. To name a few – Ridango, Brainbase, Opera, Multilogin, hear.com, and Paul Valentine.
Companies mostly use on-demand recruiters for 1) supporting rapid growth; 2) specific roles (e.g. Cybersecurity Researcher, E-Commerce Performance Marketing Specialists, etc); 3) hiring abroad. There's a variety of good choices – over 300 verified freelance recruiters and boutique agencies who offer different services, pricing models, and fees.
Karl Johan Vallner, co-founder of Brainbase says he surprised that something like Relancer exists. "I figured it's usual to ask proposals from different recruitment agencies and just test your luck. Relancer was unknown to me but I was quickly convinced by the quality of recruiters and personal support from Relancer's team. I saved a lot of time and made a better decision altogether."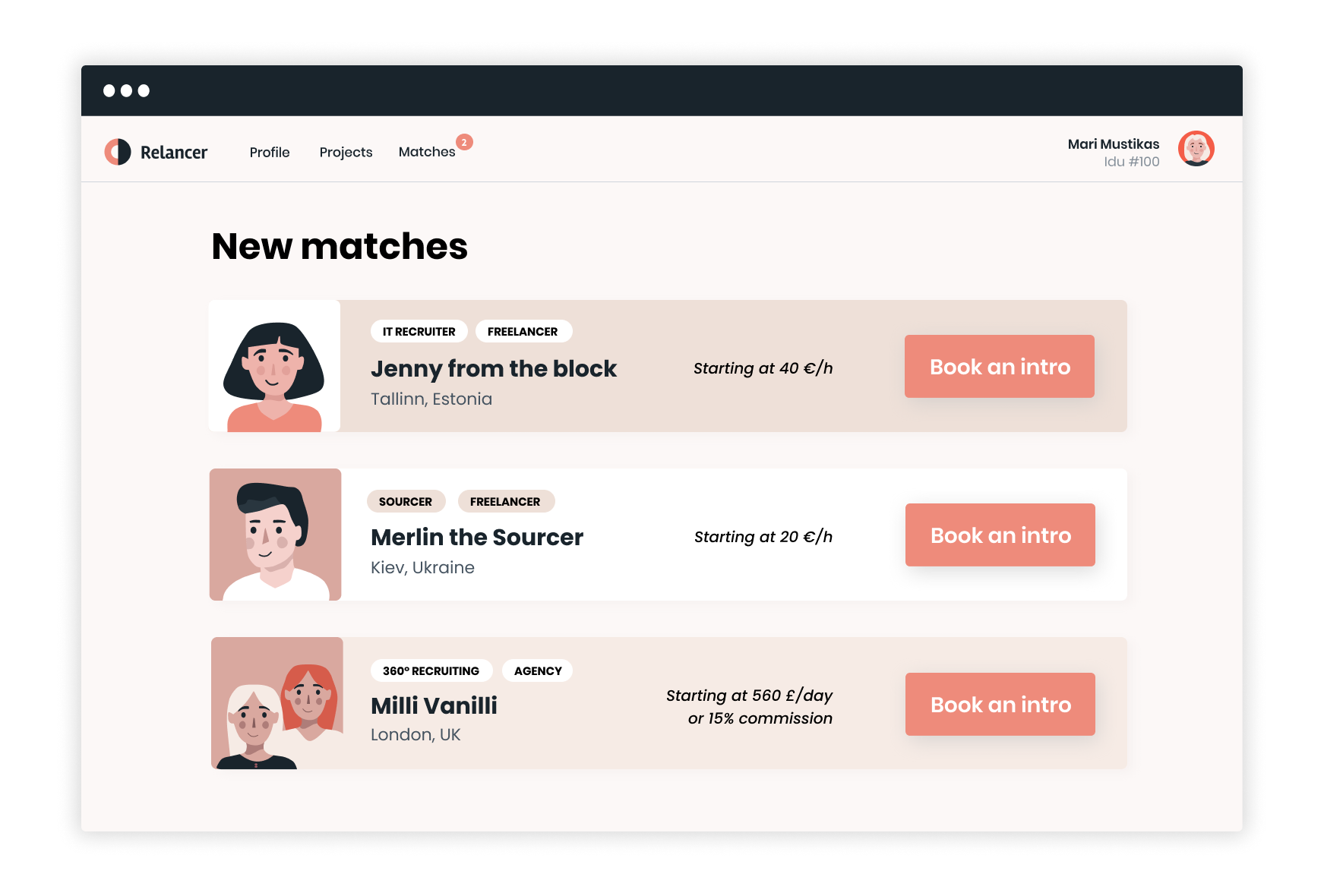 One of the challenges Relancer tackles is the stigma that recruitment agencies are too expensive or can't get the job done. According to Relancer's data, there are three things that determine if the collaboration succeeds:
1) the experience and skills of the recruiter,
2) the quality of the client's hiring process,
3) the personal fit between the client and the recruiter.
Eero, the founder of Relancer explains: "The whole experience of Relancer is created to maximize the probability of successful collaborations. Our goal is to make sure the client gets matched with the right recruiters and has the necessary information, tools to make wise choices and build partnerships with recruiters around the world. "
Kasper Suomalainen, Investment Manager at Superhero Capital is impressed by Relancer's team and one-of-a-kind approach. "There's an increasing demand for international expert recruiters as companies are going through a transition to a more remote way of working. We met this amazing team who knows the recruitment market throughout, and are excited to back their unique, fast follower approach of tapping into the growing market of freelance recruiters."